Language Contact in Contemporary Europe
Erasmus Summer School 2014
Aufgrund der internationalen Ausrichtung der Summer School ist diese Seite nur auf Englisch verfügbar.
About 40 students and a dozen instructors meet in Greifswald to study language contact in contemporary Europe. This Erasmus Summer School is innovative, interdisciplinary, and relevant for the understanding of the current language situation in Europe, especially in northeastern Europe. With partners from Estonia, Germany, Latvia, Lithuania, Poland, and Sweden, we offer a unique opportunity to look at specific examples from the Baltic-Finnic-Germanic-Slavic borderlands around the Baltic Sea. We will look at language contact from various angles: linguistics, politics, law, literature, and other fields of study contribute to the overall picture. We cordially welcome you to join us in Greifswald :) !

Partners
Gothenburg University, Sweden
Klaipeda University, Lithuania
Poznan University, Poland
Latvia's University, Riga/Latvia
Tallinn University, Estonia
Tartu University, Estonia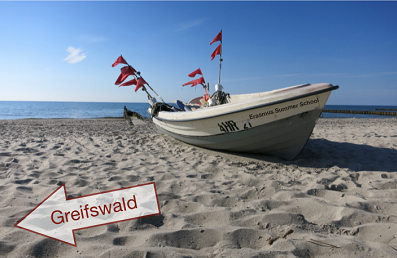 Contact
Erasmus Summer School Organising team
Dr. Sebastian Knospe
Mathias Köhn MA
Funding
This educational project is funded by the ERASMUS+ programme of the European Union. It was reviewed externally and granted by the national agency, DAAD (Deutscher Akademischer Austauschdienst).